This is your user page. Please edit this page to tell the community about yourself!
Sandi Evilsizer Koscak
Edit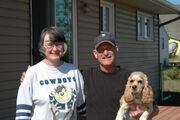 I was born in Dallas Texas, grew up in Florida and spent my adult life in San Diego, CA. I worked for Ford Motor Company for 35 years and my husband was in the Navy for 21 years. We retired to New Mexico in 1998. After 7 years, the Lord moved us to Helena Montana to fulfill His plans for a ministry. My husband and I conduct free seminars teaching the book of Revelation. The book of Daniel was sealed up for the final generation and it has been unsealed. We show our students how they can fully interpret prophecy on their own without the help of any outside sources other than the Bible and the Bible alone. I believe in God the Creator of the Universe, his son Jesus Christ and the Holy Spirit.
I am a die-hard Cowboy fan who never jumps the wagon, instead goes down with the team.
Being a Navy wife, I support our military. I do not necessarily agree with all actions of war taken by our government, but I support our troops in all situations. I appreciate that they lay their lives on the line 24 hours a day for my right to speak my mind and proclaim Jesus.
I began genealogy in the 1970's as a "gofer" for my mom and dad and became totally addicted to the hobby. I have published 4 books. One on my Evilsizer Family and the others from my mother's side..Nuckolls. I have over 150,000 persons in my databases of research. I am the original founder of the Nuckolls Worldwide Kindred Society. I can help others with their research efforts. Explore my web pages:

For additional study on the Coming King of Glory and His plan ahead for the world, go to:
Wake-Up America Seminars